ExceedFurther offers you hundreds of nonprofit reports, with thousands of options, all easily available with a few clicks of the mouse. We've built a massive library of quick report templates based on feedback from nonprofits across the globe. Each of these comes with powerful filters for precise definition of exactly what you want to see. And once you have built a favorite report, you can save it and share it with others.

In addition to the hundreds of reports, ExceedFurther provides access to an unlimited number of Smart Lists. Filter on any criteria, determine what fields to include, sort the list at multiple levels, and decide who else can view or edit the list. Schedule recurring reports in advance. Take action on an individual in the list or the entire list by assigning a follow up, emailing everyone on the list, exporting the list to Excel, or adding a specific tag to each person. Lists can be a snapshot in time or dynamic – updated to reflect the latest changes each time you open them.

Customize Views
We know most of the time you will want to set filters to further understand what's happening in your organization. This is why we built a robust system enabling you to filter across all areas of the program and save those filters. Filters can be applied to all reports and Smart Lists.

Hundreds of Reports, Hundreds of Filters, Thousands of Options
Reports are also a vital management tool. Keep campaign solicitors on track, manage event attendance, follow up on lapsed memberships, and create volunteer schedule sheets. Leverage our scheduling option to schedule your reports in advance. Reports cover all modules and a 360º view of your organization.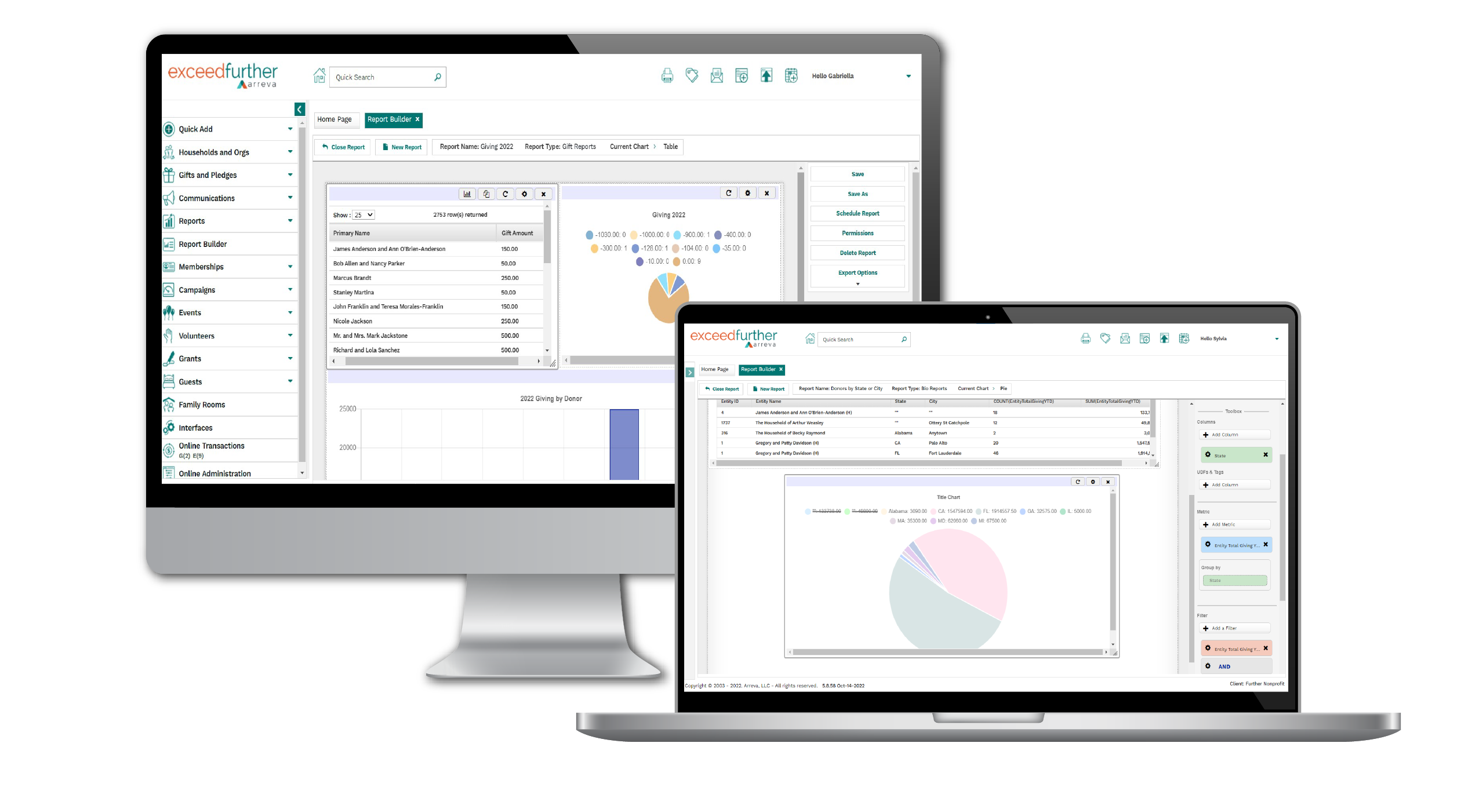 Advanced Report Builder Module for Power Users
Create, schedule, view, and share flexible custom reports with insightful metrics you define, including bio, gifts, events, campaigns, volunteers, memberships, healthcare hospitality guest stays, and more. Enhanced visual presentation of reports, including custom graphs and charts. Now available in ExceedFurther at no additional cost.
CONFIG TEMPLATE

This template controls the elements:

FOOTER: Footer Title, Footer Descriptions
CUSTOM MENU: Images and columns into header main menu submenu items

* This message is only visible in administrative mode