Peer-to-Peer Fundraising Software
Peer-to-Peer events and campaigns are the ultimate fundraising tool when it comes to reaching new donors and building awareness for your organization's mission. By enabling peer-to-peer functionality on your website, you empower your constituents to raise funds on your behalf by reaching out to their network of friends and family to help you make a difference.

Raise more money and expand your donor base online without adding expenses to your organization. Add peer-to-peer fundraising to your campaign and watch your results climb as the online gifts come immediately into ExceedFurther to see a true return on your investment.
Point and Click Setup of Peer-to-Peer Webpages
Any and all constituents can easily create a secure, Peer-to-Peer Fundraising webpage. They sign-in, upload an image for their page, set a goal, personalize their message and publish. In virtually no time they have a webpage link they can send to invite others to give.
You are always notified when a new campaign/webpage is created on your website. You are then able to view, edit, monitor or terminate as needed.
Board Member Fundraisers

Board members easily create a fundraising page they can share with friends and family.

Birthday/Anniversary Fundraisers

Ask constituents to raise funds for a good cause in lieu of sending presents.

Capital/Annual Campaigns

Create targeted giving pages to support an important project for your organization.

Memorial/Honorary Campaigns

Enable your constituents to honor their loved ones with a fundraising page in their name.
ROI Calculator for using Peer-to-Peer Fundraising Software
ROI Calculator for using Peer-to-Peer Fundraising Software
How much money can you raise with peer-to-peer fundraising?
How many new constituents can you acquire with peer-to-peer fundraising?
How does peer-to-peer fundraising impact the return on your fundraising software investment?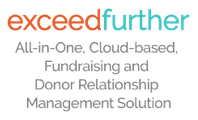 PARTICIPATION PERCENT OF CONSTITUENTS WITH A PEER-TO-PEER FUNDRAISER
NUMBER OF CONTACT RECORDS
(CONSTITUENTS / DONORS / VOLUNTEERS)
AVERAGE FUNDS RAISED PER PEER-TO-PEER FUNDRASIER
ANNUAL FUNDRAISING SOFTWARE INVESTMENT
TOTAL FUNDS RAISED VIA PEER-TO-PEER CAMPAIGN
ANNUAL SOFTWARE RETURN ON INVESTMENT - ROI
Integrate Website Fundraising with your Donor Database
Unlike crowd fundraising sites, all your donors stay on your branded website/micro-site and you process all gifts received, directly into your bank account. All gifts made on any peer-to-peer webpage will flow into ExceedFurther's Donor Relationship Management Database without the need to export/import from any other system. This ensures your data is consistent and tagged according to your requirements.
Automated Communications with Stakeholders
Donors receive an immediate confirmation into their personal email inbox and ExceedFurther administrators are notified. All notifications can be personalized for each Peer-to-Peer Fundraising campaign.
Run unlimited campaigns simultaneously
Create an unlimited number of personal fundraisers for each campaign
Capture transactions directly in the Donor Relationship Management database
Visually track fundraisers with progress meters on each webpage
Share personal fundraisers via Facebook or Tell-A-Friend
Login to your personal fundraising page to view donors and edit images, messages and fundraising goals
Automate notifications to those raising funds and system administrators when a donation is made
Download the "10 Steps to Peer-to-Peer Fundraising Success" Infographic
Peer-to-Peer fundraising and event campaigns are the ultimate way to further your cause, reach new donors, and build awareness for your organization, especially during these challenging times.
Launch and run a compelling peer-to-peer fundraising campaign from your website
Engage your volunteers to fundraise on your behalf and capitalize on your volunteer networks
Raise more money and expand your donor base online without adding expenses to your organization
CONFIG TEMPLATE

This template controls the elements:

FOOTER: Footer Title, Footer Descriptions
CUSTOM MENU: Images and columns into header main menu submenu items

* This message is only visible in administrative mode